The image above shows the exterior of the deconsecrated church of Santi Simone e Giuda. From Via dei Coronari in the heart of Rome you find the picturesque cul-de-sac Via di San Simone. The church, formerly known as Santa Maria de Monticellis, is reached by a flight of twenty-eight steps. The rather narrow entrance is crowned by a curvilinear cornice. Although the church is deconsecrated and partly dismantled, the interior still retains two interesting frescoes.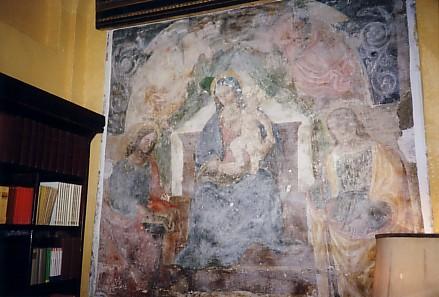 The one best preserved is the 15th century
Enthroned Madonna and the Child Jesus with Saints Simon and Jude
(right). It is supposed to have been painted by the school of Antoniazzo Romano. The other is a fragment of a 14th century
Crucifixion
. The church is located on
Monte Giordano
, a small, apparently artificial, hill already inhabited in the 12th century. It takes its name from Giordano Orsini, senator of Rome in 1341. The church is mentioned for the first time in 1178 in a papal bull promulgated by pope Alexander III (1159-1181). In the 15th century it became a parish church and had a cemetery attached to it. Some time after this the church was dedicated to the apostles Saints Simon and Jude. Pope Clement XI (1700-1721) had it restored in 1720. The church of Santi Simone e Giuda was deconsecrated in the beginning of the 20th century and has since then been used for a number of profane purposes, e.g. as a cinema, as a carpenter's workshop with a small sawmill, as a restaurant and, at present, as a theatre. At the time of the deconsecration of the church the upper part of the fašade was demolished.

This is a small portion of Giovanni Battista Nolli's (1701-1756) detailed map of Rome from 1748, which shows the former church of Santi Simone e Giuda (no. 1) and its immediate surroundings. The short Via di San Simone (no. 2) precedes the flight of steps leading up to the entrance of the church. As we can see the church apparently had a second entrance preceded by a flight of steps (no. 3) leading from the present Via della Vetrina. Via dei Coronari (no. 4) is the main street in the region.